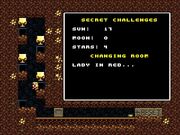 "Lady in red..."
The Changing Room is an unlockable bonus feature that lets you switch roles and play as a Damsel, while the person who needs saving is The Spelunker.
The Damsel plays identically to her male counterpart, so the difference is simply cosmetic.
To unlock this room, earn a Gold trophy score for Damsels saved in a single game. Gold trophies require 8 rescues, Silver trophies require 6 rescues and Bronze trophies require 4 rescues.
Footnotes
Edit
See: Unlockable rooms
Ad blocker interference detected!
Wikia is a free-to-use site that makes money from advertising. We have a modified experience for viewers using ad blockers

Wikia is not accessible if you've made further modifications. Remove the custom ad blocker rule(s) and the page will load as expected.