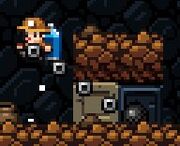 Suicide. As if it weren't easy enough to die in Spelunky, this is a key combination that causes immediate death.
ESC brings up the pause menu, and F1 selects the option to die.
There are a few situations where this is a useful option. For example:
Note that in Spelunky HD, the 'Die' command is replaced by the 'End Adventure' command, which functions precisely as it is labelled. It will not allow you to be revived if you are holding the Ankh.
Remember, ESC F1 is only sometimes good in Spelunky.
Never attempt to ESC F1 in real life .
Ad blocker interference detected!
Wikia is a free-to-use site that makes money from advertising. We have a modified experience for viewers using ad blockers

Wikia is not accessible if you've made further modifications. Remove the custom ad blocker rule(s) and the page will load as expected.