Seems a little disrespectful to just throw this around...

Type:
Object
Function:
Throwing object
Source:
• Generated randomly on dungeon floors


• Dropped when undead are killed

Damage:
1 (Thrown)
Weight:
Light
Notes:
• Shatters on impact

• Some skulls may be Skeletons lying in wait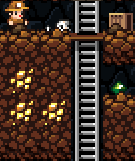 Skulls are either found on the ground amid a pile of bones or left behind when a vampire, skeleton, or Jiang Shi dies.
It can make a good throwing weapon if you have nothing else, but you may prefer the rock, or dislike desecrating corpses. The skull normally breaks after a single throw.
Watch out for Undead Skeletons, who conceal themselves as harmless bone piles until you're almost on top of them.
If you throw a skull at a Skeleton (or Mummy) blood will spurt out.
Apparently the combination of dry bones hitting more dry bones results in fresh blood. This is mostly just a cosmetic bug, but can be useful if you have the Kapala.
Ad blocker interference detected!
Wikia is a free-to-use site that makes money from advertising. We have a modified experience for viewers using ad blockers

Wikia is not accessible if you've made further modifications. Remove the custom ad blocker rule(s) and the page will load as expected.