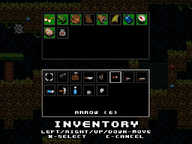 Yet Another Spelunky Mod (YASM) is a Spelunky mod that adds an inventory system to the game, along with several other new features that can be customized by the player.
Sell unwanted items to shops
Hotkeys for inventory items
Option to use doors with purchase button
Can open crates and chests with melee weapons
Set darkness level (normal, always dark, or never dark)
Customize length of time before ghost appears
Hold items while doing a flip-hang
Increase climb speed on ropes/ladders/vines
Allow wearing spring shoes to increase the distance you can fall before taking damage
Optional smaller HUD
Can play levels made with Editor Plus
Extra 'Bizarre' game mode for an extra challenge
Includes Magic Signs
External Links
Edit
Ad blocker interference detected!
Wikia is a free-to-use site that makes money from advertising. We have a modified experience for viewers using ad blockers

Wikia is not accessible if you've made further modifications. Remove the custom ad blocker rule(s) and the page will load as expected.